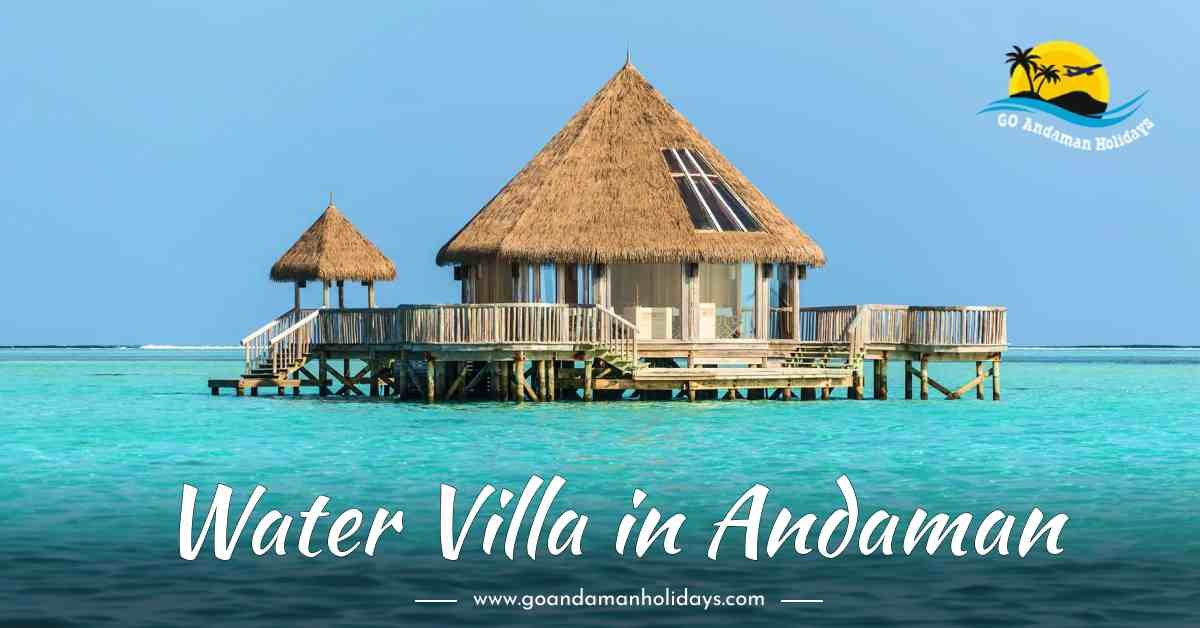 Go Andaman Holidays

26-05-2023

0 Comments
Water Villa in Andaman
Hey there! So you're looking for some luxury blended with nature at the moment? Guess what? You've found the ultimate solution! A water villa in Andaman is all you need! How did you feel? Moreover, you're enjoying your tea on your private deck while watching the beautiful sunrise over the horizon!
That's the kind of experience you can expect from a water villa in Andaman. Sounds interesting, right? It is, indeed! A water villa in Andaman offers a clear and picturesque experience of staying amidst nature's serene beauty along with the comfort of luxurious resorts.
In this blog, we'll talk about some of the best water villas in Andaman in depth. It's going to surely compel you to try those amazing luxuries!
Luxury and Facilities of a Water Villa in Andaman
The amenities of a water villa in Andaman are equipped with all modern aids to ensure the guests are comfortable. These villas often comprise a private plunge pool, a spacious living room, a bedroom with a king-sized bed, and a large bathroom with a jacuzzi.
Range of Options and Budgets
A water villa in Andaman comes up with different budgets and prices. All these suit your needs and preferences. You can choose from a range of options, starting from affordable villas to high-end luxury villas in Andaman with private butlers and chefs. Also, you can opt for comprehensive packages that include meals, activities, and airport transfers.
Nature and Marine Life
Are you a nature lover? Then, staying in a water villa in Andaman is the perfect idea! It will be a dream come true for you if you also like to witness the exotic marine life in the Andaman archipelago. It is home to a variety of creatures and plants, such as seaweed, sea turtles, hammerhead sharks, dolphins, piranhas, coral reefs, and even goldfish.
You can take a boat ride to the nearby islands and beaches to enjoy the scenic beauty and tranquility of Andaman.
Romantic Getaways and Family Functions
A water villa in Andaman is the perfect destination for couples on their honeymoon or those looking for a romantic date. The scenic surroundings and the luxurious facilities are enough to make a great setting to rekindle your romance and spend some quality time with your better half. Enjoy a great candlelight dinner while watching the sunset.
The water villas in Andaman also offer many things to those gathering for a family trip. These provide ample space to everyone along with privacy. The kids can have fun in the pool while the adults can relax on the deck, reading a book or just sitting idly. Luxury lovers can also have wonderful drinks from the minibar.
One can indulge in a range of water sports in Andaman, such as kayaking, snorkeling, surfing, scuba diving, fishing, and a lot more.
The Best Water Villas in Andaman
1. Taj Exotica Resort & Spa
Taj Exotica Resort & Spa is a luxurious property situated on Havelock Island, one of the most popular tourist destinations in Andaman. The resort offers a range of water villas, each having a private pool, a living room, and a jacuzzi.
Each water villa in Andaman has been designed to offer complete privacy and a feeling of seclusion, making it ideal for tourists, especially couples. Water sports are also available for those who love adventure.
2. Barefoot at Havelock
Barefoot at Havelock is a unique boutique resort located on Havelock Island. Here, you can avail yourself of an eco-friendly water villa in Andaman. The villas are made from sustainable materials and have been developed to fuse with the natural surroundings.
Like the other water villas in Andaman, this one also offers spacious living and bedrooms along with a king-sized bed and a private jacuzzi. Don't forget to try fishing and other water activities while you stay here!
3. Munjoh Ocean Resort
Munjoh Ocean Resort is nestled on the tranquil beach of Havelock Island. It is a prestigious property that provides a wide variety of amenities. The water villas consist of a private pool, a bedroom with a king-sized bed, and a spacious bathroom.
4. Symphony Palms Beach Resort
Symphony Palms Beach Resort is a pocket-friendly resort located on Neil Island. It offers different water villas in Andaman that even come up with private balconies, offering stunning views of the ocean. You can also enjoy water sports and seclusion, other than fancy dinners.
(FAQ) Frequently Asked Questions
1. Can you drink alcohol in Andaman?
Yes, you can drink alcohol in Andaman from licensed shops and hotels. However, please note that it's strictly prohibited in public places like beaches, parks, and streets. Moreover, you must have valid ID proof which clearly states that you're at least 21 years old. Drink responsibly and don't harm others and yourself.
2. How much will a honeymoon to Andaman cost?
The cost of a honeymoon in Andaman can vary depending upon several factors, such as the type of hotel chosen, transportation mode, meals, and so on. Taking all these into account, the entire trip can cost around INR 40K to INR 1, 00, 000 per couple.
3. Is a water villa in Andaman pocket-friendly?
A water villa in Andaman may not be budget-friendly, but it's a great experience for those looking for some extra fun and luxury. Overall, the cost for these villas may range between INR 15K to INR 50K per night.
4. Which is more costly: Bali or Andaman?
The cost of staying in Bali can range between INR 15K to INR 25K per night. But, the cost of staying in Andaman varies between INR 1, 500 to INR 10K per night, depending on different factors. Thus, staying in Bali is more expensive than in Andaman.
5. How expensive is food in Andaman?
Food in Andaman is usually affordable and comes under your budget. Additionally, you can try the local cuisines to save extra costs and enjoy different delicacies.
Conclusion
In conclusion, staying in a water villa in Andaman is a worthwhile experience. It offers privacy and seclusion, making sure your quality time doesn't get hampered by the city crowd. These villas come in different price ranges and provide all the needed amenities to the tourists. Hence, make sure you add this to your bucket list too, if you're planning a trip to Andaman.