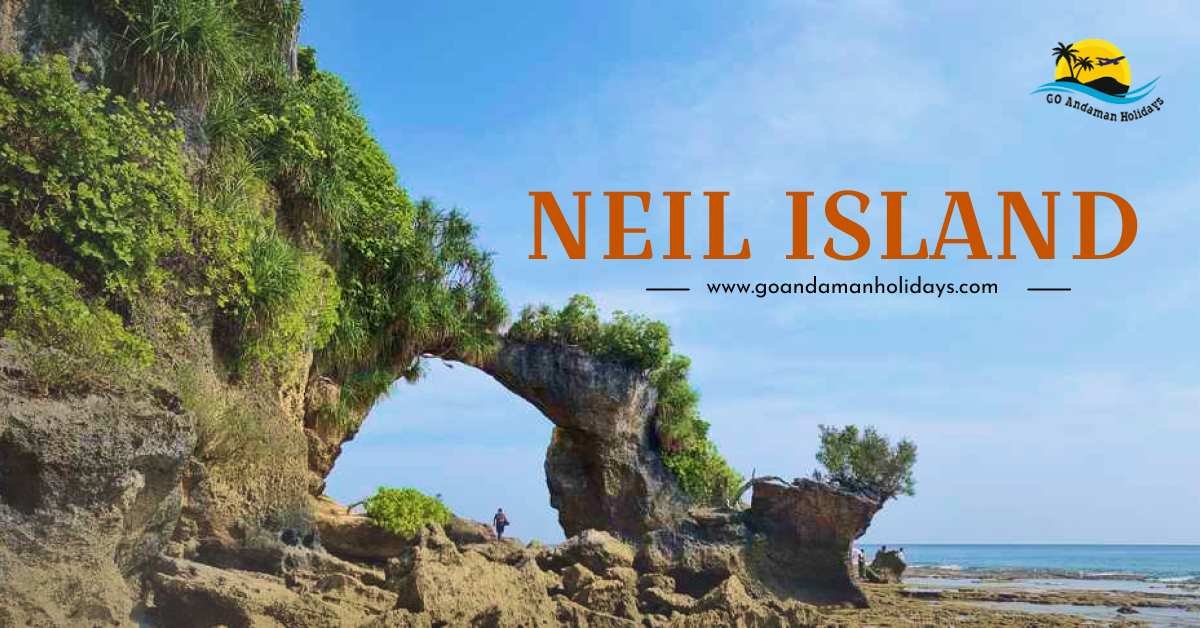 Go Andaman Holidays

05-04-2023

0 Comments
Neil Island: Discover the Real and Untouched Beauty of Andaman
Neil Island, also known as Shaheed Dweep, is a small archipelago located in the southern part of the Andaman and Nicobar Islands. This Island is also known as the "Vegetable Bowl" of the Andamans since it is the primary source of vegetable production in these archipelagoes.
However, Neil Island provides much more than just fruits and vegetables! The pristine white sand, clear skies and sea waters, and lush green forests make it so appealing to tourists. At Go Andaman Holidays, we offer affordable tours of the Andaman and Nicobar Islands. Surprisingly, this archipelago also comes under the tour list of this travel agency in Kolkata!
How to get to Neil Island
Taking a ferry from Port Blair, the capital city of Andamans is the easiest way to reach Neil Island. The ride takes around 2 hours and there are regular ferries available throughout the day.
The other option is to take a seaplane. From Port Blair, it takes just 20 minutes to reach Neil Island. You can enjoy stunning aerial views of the Andaman and Nicobar Islands while traveling as well.
Things to Do in Neil Island
If you hire a travel agency in Kolkata, their representative picks you up from the airport in Port Blair. From there, they greet you and escort you to your chosen hotel rooms. They offer several plans, like the honeymoon and family tour package, and even luxury packs. The next day begins with mind blowing breakfast and tourism!
1. Relaxing
You can relax on the beaches while sunbathing under an umbrella chair. Neil Island is home to several astonishing beaches, like Bharatpur Beach, Sitapur Beach, and Laxmanpur Beach. Each of these offers something to almost every traveler, and thereby are must-visits.
Bharatpur Beach is the most famous one here and you can try different water sports here, such as scuba diving, snorkeling, surfing, swimming, and so on. Tourists can rent all necessary equipment from local vendors. Don't forget to enjoy boating here!
Sitapur Beach offers breathtaking sunrise and sunset views. The romantic atmosphere is perfect for a date with your better half. There are many palm trees surrounding the beach and offering a peaceful and serene environment.
Laxmanpur Beach is also famous for its sunsets and natural rock formations. One can witness a vibrant view of coral reefs and other beautiful seaweeds here. Water sports are readily available.
2. Exploration
Neil Island is home to beautiful coral reefs. There is a diverse marine life, and you can enjoy watching sea turtles, fish, dolphins, and even reef sharks. Several tour operators in Kolkata offer snorkeling and scuba diving tours, with Go Andaman Holidays being one. They provide multilingual guides who are very friendly.
3. Natural Bridge Tour
The Natural Bridge is one of the most popular attractions on Neil Island. Located near the Laxmanpur Bridge on the western coast of the archipelago, it is a natural rock formation that looks like a bridge.
This destination is visited the most during low tides when visitors can explore the tide pools below. Photography and watching sunsets are the most common activities enjoyed here.
4. Cycling
You can go on a cycling tour at Neil Island. Moreover, a bicycle tour is the best and most workable way to explore this travel destination. It lets you see the local life and people. You can stop at restaurants, cafes, or shops in the middle and avail yourself of fresh air at the beaches.
5. Learn about Local Culture
The people of Neil Island primarily practice agriculture and fishing. If you didn't learn about their way of life, you didn't explore the real archipelago! Talking to them would make you realize how fun locals can be.
You can visit the Island's market with the help of a guide provided by our tour agency in Kolkata. There, you can shop for different homemade items and handicrafts, like artifacts and bracelets. The local village tour would let you see how locals catch fish and prepare their seafood.
6. Attend the Island's Festivals
People in Neil Island celebrate different festivals with traditions. One of the most famous festivals here is the Island Tourism Festival. It is celebrated in January and showcases the Island's local art, cuisine, and music.
Other popular festivals celebrated on Neil Island include Subhash Mela and Shaheed Diwas. These mark the birth anniversary of Netaji Subhash Chandra Bose and the sacrifice of Indian freedom fighters respectively.
Where to Stay on Neil Island
Though it is a small archipelago, Neil Island offers feasible and reputed lodging and accommodation options. One can anytime contact a travel company in Kolkata to book their chosen hotels and resorts.
i) Pearl Park Beach Resort
Located on Laxmanpur Beach, Pearl Park Beach Resort is super luxurious and offers comfortable rooms with stunning sea views.
ii) Tango Beach Resort
It is a mid-range resort located on Bharatpur Beach. One can access coral reefs through a view from its rooms.
iii) Seashell Neil
It is a pocket-friendly hotel located near the market at Neil Island. You can avail yourself of the closest markets, restaurants, and shops from here.
iv) Tango Resort
Tango Resort is a warm and cozy resort with a peaceful atmosphere, located near Sitapur Beach.
v) Silver Sand Neil
Located on Sitapur Beach, this resort is the best for marine life lovers. You can see coral reefs and other interesting items here. The food is good and there are not many charges. In short, it is perfect for a budget family tour.
vi) Summer Sands Beach Resort
It is a mid-range resort located on Ramnagar Beach. You can stay in sea-facing rooms and eat in a restaurant serving delicious local cuisines. The seafood here is a must-try.
Conclusion
Neil Island is a perfect blend of natural beauty, serenity, vegetation, and local cuisines. Be it watersports, boating, or ferry rides, there is something for everyone here. One can stay in beautiful resorts and hotels.
At Go Andaman Holidays, we offer customized tour packages to make your travel budget-friendly and fun. We're the best travel agency in Kolkata and take care of everything, ranging from accommodation to tourism. Book a consultation now to avail yourself of a luxurious tour!