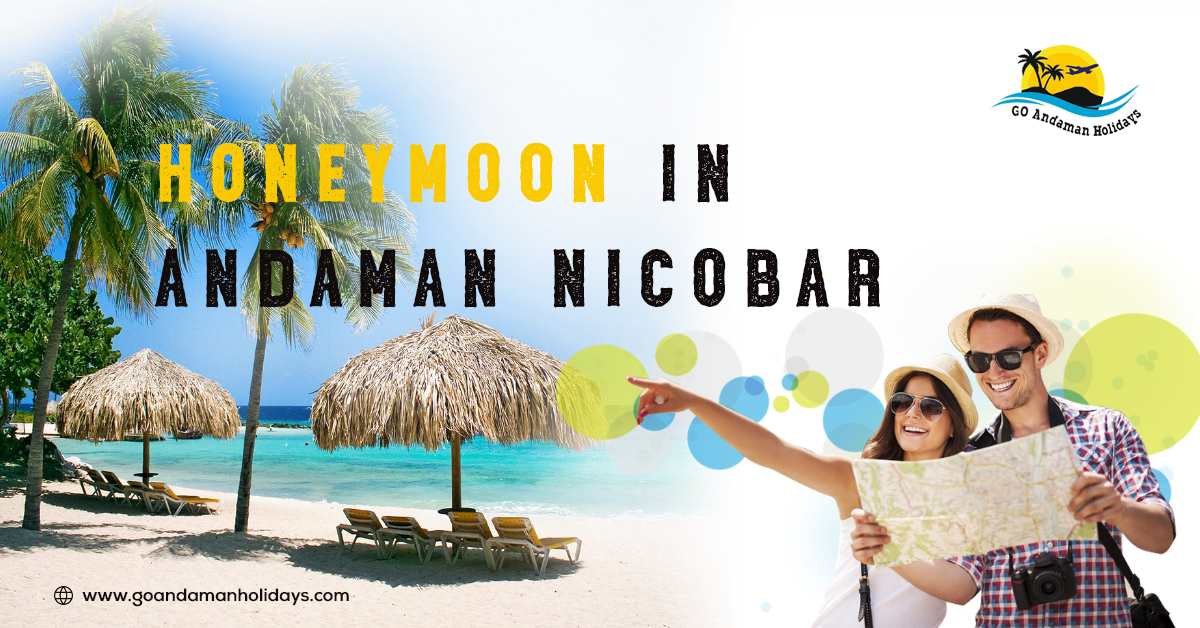 Go Andaman Holidays

26-12-2022

0 Comments
Honeymoon in Andaman Nicobar Islands
How does a honeymoon in a location with turquoise water, rows of palm trees, and miles of sparkling white sand, sound? Well, the islands of Andaman and Nicobar are where you may find this tropical paradise. It is a popular honeymoon destination for newlyweds, and you may choose the same!
Honeymoon in Andaman and Nicobar offers a romantic getaway while exploring the wonderful tourist destinations and taking part in all the exciting activities the islands offer. The destination offers plenty of natural beauty, serenity, beautiful beaches, and sheer tranquility. All you need is a proper guide before heading for your romance there.
Ideal Time for an Andaman Honeymoon
One may travel to Andaman at any time of the year because of its temperate climate. But from October to May is the ideal period for planning a honeymoon in Andaman and Nicobar Islands. The winter season, which lasts from October to March, is the finest time to enjoy water sports in Andaman beaches. The winter season is lovely with clear skies and pleasant temperatures. In April, a fun beach event is organized there. Accordingly, to organize a honeymoon in the Andaman, these are some of the ideal months.
6 Honeymoon Destinations in Andaman
The most romantic locations in Andaman are worth exploring. Andaman is a stunning Indian archipelago. Places you shouldn't miss while on your Andaman honeymoon are:
1. Havelock Island
Havelock is the perfect island for couples because of its beaches and dive sites. It provides exciting activities like kayaking, diving, and snorkeling, among others. Havelock is also a perfect choice for a more relaxed honeymoon getaway. It offers some gorgeous beaches where one can relax and unwind.
Due to its breathtaking beauty, the Radhanagar Beach on Havelock Island is comparable to a scene from a fairy tale. It is surrounded by a lush green forest and offers white, sandy beaches. This region of the island's sea is a superb option to go swimming.
2. Neil Island
The definition of scenic beauty is Neil Island. The island is paradisiacal with its lovely surroundings. The beaches with white sand in this region are great for romantic strolls in the dusk. One can enjoy swimming and diving in the clear, tranquil seas. Plan romantic evenings and candlelight dinners on the beach for the ultimate Andaman honeymoon at Neil Island.
3. Little Andaman
Another lovely island to explore when on a honeymoon in Andaman and Nicobar is Little Andaman. The pristine beaches in this place are great to spend some quality time with your partner. Beautiful beach resorts with all the amenities are available. For a romantic honeymoon in Andaman and Nicobar, this is the perfect escape.
4. Cuthbert Bay Wildlife Sanctuary
Cuthbert Bay Wildlife Sanctuary is a turtle nesting ground and is regarded as one of the best honeymoon locations in Andaman. This wildlife sanctuary is most enjoyable from October to April. At the magnificent Cuthbert Bay Wildlife Sanctuary in the Andaman and Nicobar Islands, you can see Olive Ridley turtles, Leatherback turtles, Hawksbill and spotted deer.
5. Mini Zoo
It is among the nicest locations in Andaman for a honeymoon. You and your spouse get the opportunity to witness a range of exotic animal species at this location. Additionally, you can spend time in greenery and wildlife. It has some great and exciting activities to keep you entertained, such as crocodile farming and breeding grounds. A variety of eagles can be seen here too.
6. Samudrika Marine Museum
Samudrika Marine Museum, one of the most well-known tourist destinations for all marine enthusiasts, is located near Andaman Teal House. To spread awareness about the marine and ocean life, this museum was constructed. Witness the few species of colorful fishes as well as cells and corals when you visit this museum.
Essentials for an Unforgettable Honeymoon Stay in Andaman
The accommodations, amenities, and location must all be looked after for a honeymoon to be considered perfect. Look for hotels or resorts with beautiful ambiance and surroundings. Resorts offering exotic drinks, ocean and pool suites and in-house restaurants serving delicious seafood and interesting cuisines are to be opted for to make your honeymoon in Andaman and Nicobar worthwhile.
Ways of Reaching Andaman
Flying to Port Blair is the best method to get to Andaman. Port Blair may be reached by flight from many Indian cities. Andaman Islands do not offer any direct rail or road routes. One can travel to Chennai by train or car, and then board a flight again to reach Port Blair. Another option is the waterway, although it is not very feasible since it takes two to three days to travel via ship from the Indian mainland to Port Blair.
3 Legitimate Andaman Honeymoon Tips
If you're planning a honeymoon in Andaman and Nicobar Islands anytime soon, bear in mind these 3 reliable suggestions so you may have an unforgettable time accompanying your partner at the finest honeymoon sites in Andaman.
1. DIY Planning
Create your own schedule, find the top Andaman honeymoon destinations, select a hotel of your choice, contact people, and negotiate. Yes, outsourcing these headaches to a traveling portal is simpler, but not many would customize it as per your wish.
The majority of itineraries offer a predetermined list of honeymoon destinations in the Andaman, but it is best known to you about the number of days you wish to spend lounging on a sunny beach and the days you'd prefer to be in amazement of the underwater world. Additionally, one needs to be aware of the best Andaman destinations for a honeymoon.
2. Kayaking and Fishing
Yes, scuba diving and snorkeling are enjoyable activities, and all honeymooning couples in the Andaman Islands have them on their bucket lists. Go for it; the ocean is a treasure trove, but also explore kayaking, walking on the seabed, island camping and fishing. Make sure you conduct thorough study on the ideal Andaman honeymoon season for enjoying the island's spectacular sights. They bring back many happy memories of doing exciting things together and are just as romantic as your romantic beach dinner.
3. Cuisine
A honeymoon in Andaman and Nicobar is ideal if you enjoy seafood and coastal cuisine. Everything, from casual eateries to five-star establishments, will satisfy your palate. It won't be difficult to find South Indian and North Indian food either. However, vegetarian couples need to be aware of the possibilities available to them. You definitely don't want to ruin the fun by eating something you don't like. The more upscale restaurants provide you with a variety of Indian, European and Continental options, but the smaller neighborhood dhabas are not at all a disappointment.
FAQs about Andaman for Honeymoon
i) Is Andaman an ideal honeymoon location?
Yes, the Andaman Islands are among the best locations for a honeymoon. The location is ideal for a romantic honeymoon because it offers plenty of natural beauty, serenity, beach resorts, options for adventurous activities, and also sheer calmness. You can take your better half to places like Neil Island, Havelock Island, North Bay and more.
ii) Is a passport required for Andaman and Nicobar?
Since Andaman is a territory of India, nationals of this country can go there without a passport. However, specific authorization is needed if someone wants to travel to the tribal areas of the Andaman and Nicobar islands.
iii) In Andaman, what should I wear?
To wear on the Andaman and Nicobar islands, visitors can bring light cotton clothing, bathing suits, headgear, shrugs, caps and ponchos.
iv) Is it legal to consume alcohol in Andaman?
With the exception of a few restricted places, alcohol is widely accessible in and around the territories of Andaman and Nicobar government-licensed stores.
v) Which Andaman Island restaurants are the best?
Fat Martin, Sea Dragon Restaurant, and Bliss Holiday Resort & Restaurants are a few of the top eateries in the Andaman and Nicobar Islands where you may savor a delectable dinner.
vi) Where on Andaman Island can I enjoy scuba diving?
Try diving at Havelock Island, North Bay, Barren Island, and Lalaji Bay Beach if you want to have an incredible scuba diving experience.
Conclusion
For newlyweds, the honeymoon is a wonderful time, and where better to celebrate your union than at the best exotic honeymoon destinations in Andaman? A place known for its romantic vibes, there is no room for disappointment. No stone is unturned in providing breath-taking scenery, spectacular beaches, clear and clean waters, sparkling sand, and magnificent sunsets for the romantic escape, which enables you to spend the supreme time with your beloved.