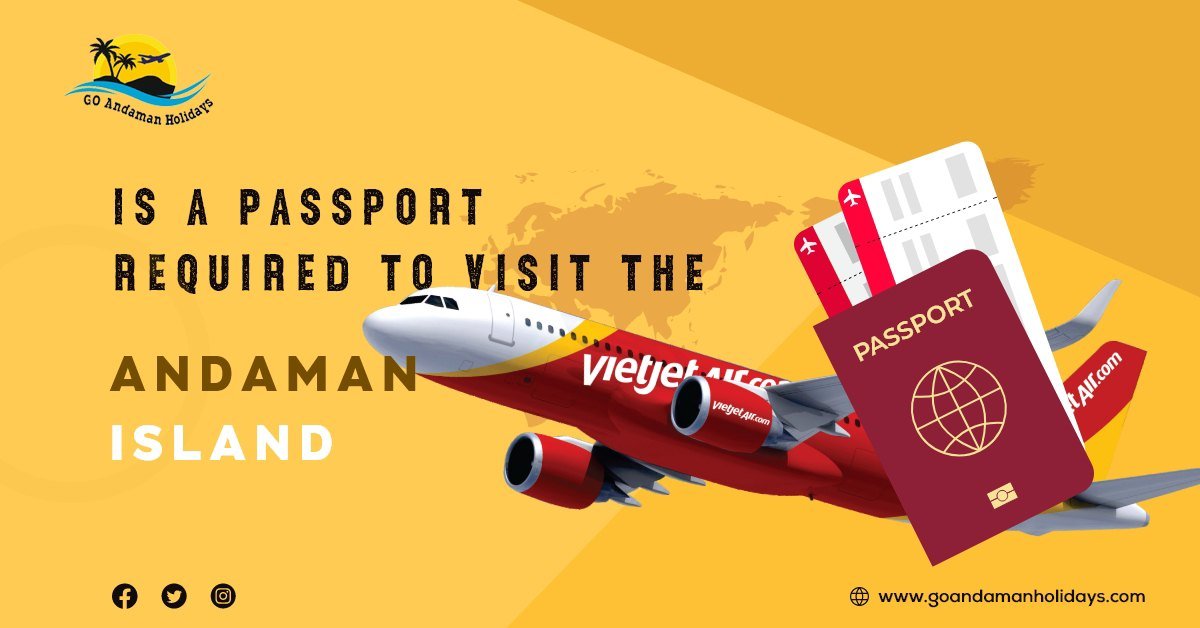 Go Andaman Holidays

22-12-2022

0 Comments
Is a Passport Required to Visit the Andaman Islands?
Indian citizens do not require a passport to visit the Andaman and Nicobar islands because they are part of India and are a UT, but visitors from other countries do. Indian nationals can use any legitimate ID, which is primarily needed to board flights and check into hotels. So, the question 'Is passport required for Andaman' is answered. Nevertheless, there is certain stuff which is required to be aware of before you start your trip.
INDIAN NATIONALS' ENTRY PERMIT
Indian nationals are allowed to live in permitted locations for as long as they choose. However, Indian citizens without passports must have a permit to visit particular places, such as tribal areas (e.g. educational, research, etc.).
PERMIT OF ENTRY FOR OVERSEAS PERSONS
Non-Indians must get a Restricted Area Permit (RAP) in order to visit the Andaman and Nicobar Islands, according to the Foreigners (Restricted Areas) Order of 1968. If a valid visa is available, the permits can be obtained from the immigration office at the airport or waterways port/station for 30 days. With the consent of the Superintendent of Police, Andaman District, Port Blair, the license may also be extended for an additional 15 days. In addition, tourists can receive RAP from immigration offices in New Delhi, Mumbai, Chennai, and Kolkata, where it can also be officially submitted.
Tourist FAQs about Andaman and Nicobar Islands
1. How do I travel to the islands of Andaman and Nicobar?
There are two methods to get to Port Blair: either fly from Kolkata, Chennai, or Delhi, or take a ship from Kolkata, Chennai, or Vizag.
2. What time of year is ideal for a vacation in the Andaman and Nicobar Islands?
The Andaman Islands are a year-round vacation destination, including summer and monsoon seasons (there is no winter season). However, the peak travel season is from October to May.
3. Is Indian currency used in Andaman?
Yes. In the Andaman and Nicobar Islands, Indian Rupee is used. Banks, currency dealers, and the airport all provide currency exchange services. Furthermore, the ATMs there allow you to withdraw Indian Rupees.
4. Is it safe or secure to visit the Andaman Islands?
The volume of visitors to the Andaman and Nicobar islands is a testament to how secure visitors feel there. Some of the safest areas in the nation to live and travel are on these islands.
5. Can I use the internet and make international calls while I'm in the Andaman Islands?
The majority of significant hotels or resorts and ISTD booths in the marketplaces offer international dialing. To place an international call, dial 00, the country code, and the area code, followed by the phone number. Services are often trustworthy.
Conclusion
What more could you ask for in an ideal vacation than bright skies, a blue skyline, white sands, unraveling history, and an emerald ocean?
Whether you're searching for a quiet beach vacation or an exciting holiday of snorkeling, trekking, and scuba diving, you'll discover that Andaman seems to have the pleasure of a vacation away from the city crowd, yet proximate enough to civilization's amenities.