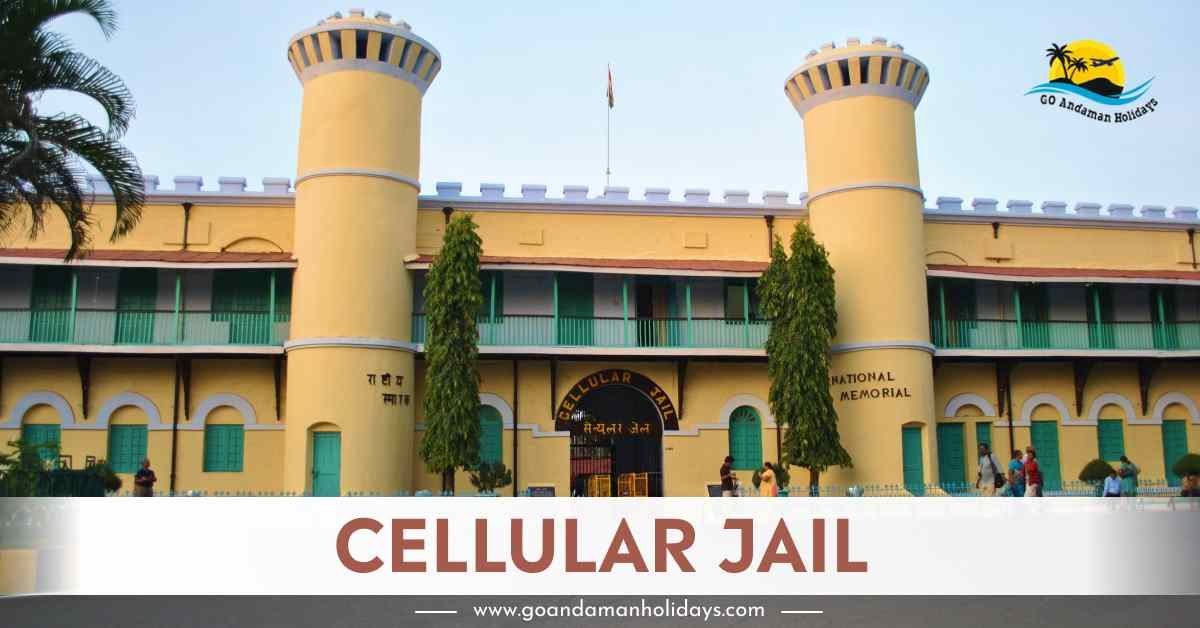 Go Andaman Holidays

12-04-2023

0 Comments
Cellular Jail
When it comes to India's struggle for Independence, every citizen knows what it took. Many Indian freedom fighters sacrificed their lives to drive the foreign rulers out and let us live our way. We still remember them in the golden pages of history. There are many memorials built that remind us of the horrifying British rule. One such monument is Cellular Jail.
Cellular Jail, also known as Kala Pani was built in 1906 by the British in Port Blair. It is a must-visit destination for travel freaks and history buffs. Go Andaman Holidays is a travel agency in Kolkata that offers several packages to tourists to visit Andaman and Nicobar Islands. In this blog, we'll explore all about the historical Cellular Jail and what wonders it has got for you.
History of Cellular Jail
The captivating Cellular Jail was designed to hold prisoners in solitary confinement. The prison was constructed in the shape of a cellular structure with seven wings, each of which had three floors.
The cells were small and measured only 4.5 by 2.7 meters. These were developed to hold one prisoner at a time in custody. The jail was built on a small Island, which was connected to the mainland by a narrow bridge. Now, you must have understood how difficult it was for prisoners to escape!
Cellular Jail was designed to imprison political prisoners during the British era. Many freedom fighters such as Veer Savarkar, Batukeshwar Dutt, Bhagat Singh, and others were kept on hold there. It's sad to hear that they were kept in very inhumane conditions and many even died due to the brutal torture.
The Cellular Jail was abandoned after India gained Independence in 1947. In 1969, the Government of India declared it a historic monument and converted it into a museum in 1979. Today, people visit it through travel agencies in India and remember the great freedom fighters.
Visiting Cellular Jail
Cellular Jail should be number 1 on your bucket list if you're planning to visit Andaman and Nicobar Islands. You can reach here by taking a ferry from Phoenix Bay Jetty. The ride would be entertaining and it will only take 30 minutes to reach the destination.
After reaching Cellular Jail, you can explore the museum with your friends or family. There are several artifacts reminding the visitors of India's hardcore fightback against British rule. Our Travel Company in Kolkata allows you to avail of a Light and Sound Show which is organized in Cellular Jail. It takes place in the evening and is super stunning.
If you're not confident about traveling alone, you can hire a guide. Our tour agency in India provides multilingual guides to clients who help them explore everything freely. They are friendly and polite as well. Also, they can give you a detailed account of the history and the conditions in which the prisoners were kept.
Booking through a Travel Agency
There are several benefits of booking your stay in Andaman through our travel agency in Kolkata.
We provide tourists with a customized itinerary based on their budget and preferences.
Our representatives take care of all the arrangements, such as lodging & accommodation, food and drinks, tourism, water sports, sightseeing, and so on.
We offer several packages that match your needs and want. Starting from a family trip to a honeymoon, everything is available under one roof.
The agents take proper care of your transportation too.
Why Should You Visit Cellular Jail?
One of the most fascinating characteristics of the Cellular Jail is its cells' unique designs. A tour of it would be very emotionally stirring to empathetic souls like you. The prison witnesses the harsh treatment given to our beloved freedom fighters during that brutal era. You will also learn more about their daily routine and the types of torture they endured!
Each cell of the Cellular Jail was constructed to prevent the prisoners from interacting with each other. Can you imagine how isolated they would be? No family and no friends, this was the brutality inflicted by those spineless rulers!
The prisoners had to eat, sleep, and perform all bodily functions in the same cells. This caused serious diseases and poor hygiene. The sound and light show marks the struggle of the fighters faced by them. The music, narration, and special effects bring life to the history of Cellular Jail which ultimately makes your experience more immersing.
(FAQ) Frequently Asked Questions
i) What is Cellular Jail punishment?
The punishment varied from handcuffs for a week to shackles for six months. In most cases, it resulted in solitary confinement. Remoteness and brutality inflicted upon the prisoners named it 'Kala Pani', meaning black waters.
iii) Is photography allowed in Cellular Jail?
No, photography and videography are strictly prohibited in Cellular Jail. This is because this prison is referred to as the 'Karma Bhumi' of our freedom fighters. Hence, taking photos inside would be a disrespect to their sacrifice.
iv) How many people died in Cellular Jail?
Three prisoners died in Cellular Jail due to force-feeding out of thirty-three who had protested against the treatment. These were Mahavir Singh, Mohan Kishore Namadas, and Mohit Moitra.
v) What is the new name of Cellular Jail?
There's no new name but the other name of Cellular Jail is Kala Pani, as mentioned before. Known as Saza-e-Kalapani, the deadly punishment inflicted here upon the prisoners was as poisonous as black water, due to which it was given this name.
vi) How were prisoners tortured in Cellular Jail?
The prisoners were kept locked up in shackles. The metal rods used to run from their arms to their knees. Physical torture and isolation were common sights. They were only let out when there was some work.
Conclusion
In this article, we talked you through Cellular Jail, its history, the kind of treatment given here, and what tourists enjoy here now. It is a reminder of the atrocities inflicted by the brutal jailors. It is a must-visit destination for any patriotic traveler. Go Andaman Holidays is the best travel agency in Kolkata that provides packages for touring this historic monument. Visit now for more info!
Read Also: