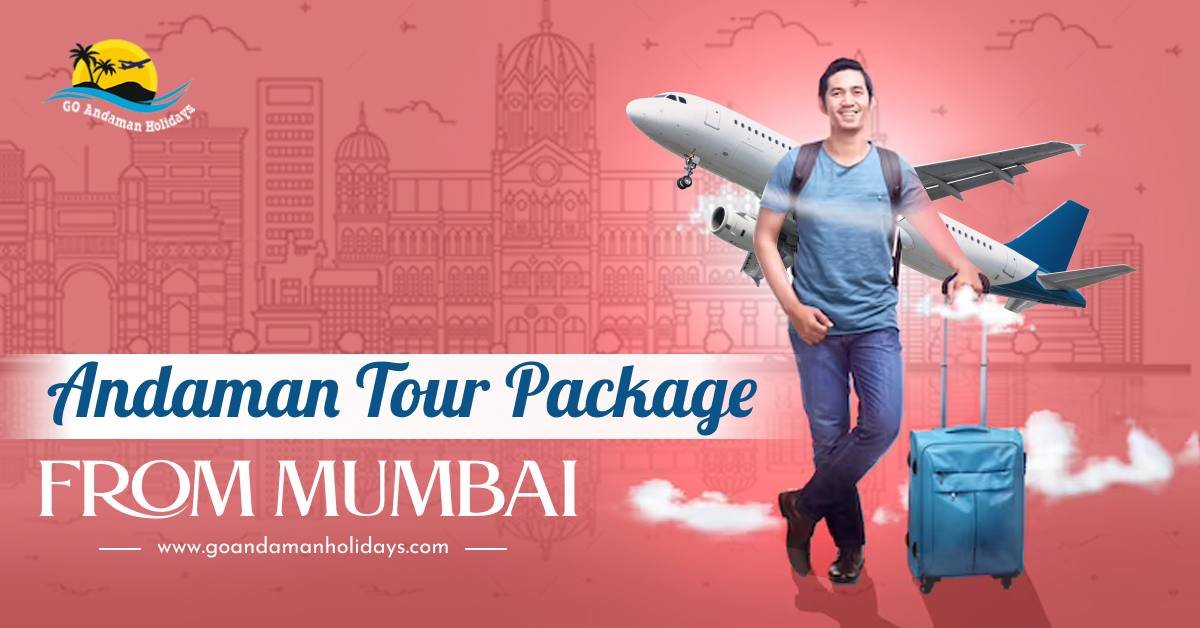 Go Andaman Holidays

03-04-2023

0 Comments
Andaman Tour Packages from Mumbai
Hello travelers! Bored of your mundane lives and seeking something adventurous? We guess you're at the right place! As you know, Mumbai is a chirpy metropolitan city that never sleeps. Thus, people here often long for Andaman tour packages from Mumbai to escape from the chaos into a lush green environment along with Islands and Beaches.
Andaman & Nicobar Islands, lying on the Bay of Bengal, is a gateway to heaven on Earth. Go Andaman Holidays offers some vibrant and affordable tour packages from many cities, including Mumbai. These cater to your budget, preferences, and interests as well. Also, you'll be able to avail yourself of ferry and water sports that will make your trip memorable and fun.
What are some Cheap Trip Packages from Mumbai?
1. Andaman LTC Tour
This plan lets you take a trip for 4 nights and 5 days. The popular tourist destinations that come under this package include Port Blair, Havelock & Neil Island, Cellular Jail, Radhanagar Beach, and a trip to LTC. The minimum cost per person is ?13,850.00 with GST.
The Cellular Jail, also known as Kaalapani, is full-fledged proof of the torture incurred by the British on Indians. You'll enjoy the amazing light and sound show here that'll take you back to the freedom struggle era.
One can stay at the luxurious Star Beach Resort to calm their body and soul. If you want to avail yourself of a ferry cruise ride, Radhanagar Beach awaits you. Neil Island, often called the 'Vegetable Bowl of Andaman', is an abode to tropical greenwoods and white sandy beaches.
There are many other attractions one can witness when taking an action and buying these Andaman tour packages from Mumbai.
2. Andaman Monsoon Tour
This plan starts at ?12,479.00 per person. The ideal duration to stay is 6 nights and 7 days. It varies as per the different options. This pack allows you to explore several places, including the historical Ross Islands.
North Bay Island is also a good place to go. These Andaman tour packages from Mumbai also allow you to visit the beautiful Corbyn Cove Beach after a hearty and delightful breakfast. Don't worry about the food charges, as it's all included in the tour packs.
3. Budget Package
The other facilities are the same, but the extra amenities included under this package is a visit to the Museum. This gallery is a collection of artifacts of the British era, relevant to the Islands. The cost per person is very pocket-friendly and doesn't exceed more than ?11,605.00. Like its name, this plan is budget-friendly.
Adventure sports lovers can enjoy scuba diving, snorkeling, underwater sea-walking, glass-bottom boat ride, and so on. The beauties of these land masses include the great coral reefs and ornamental sea creatures. One can closely witness marine life through Go Andaman Holidays tour packages.
4. Family Package
Are you a family man, not being able to spend some quality time with your loved ones? Perhaps, you desperately need a trip! With our family trip packages, you have to not worry. The suggested duration is 4 nights and 5 days. The charges per person are ?14,677.00.
You can avail of deluxe as well as luxurious family tours with these packages. In the early morning, you can refresh yourself with water sports and exercise which will detox your mind and body. After returning, relish a delicious breakfast and head towards Kalapathar Beach. After a long and tiring tour, return to the Havelock Island resort along with your escorting representative.
5. Honeymoon Package
So, you're a newly-wedded couple? Want to relish a great moment with your partner and take away some beautiful memories? Go Andaman's Honeymoon Package gives you multiple options to create an unforgettable bond with your loved one.
Starting at ?12,867.00, this budget honeymoon package suggests lots of activities try. You can enjoy a candlelight dinner with your spouse in a luxurious restaurant to make your surroundings more romantic.
Don't forget to click good photos of both you and your partner! The way to reach Andaman is to take off from Veer Savarkar International Airport (IXZ) at Port Blair from Mumbai. The other prominent routes are Delhi, Chennai, Bangalore, and Kolkata.
6. Luxury Packages
These start at ?21,200 per person and have been designed especially for honeymoons. You can check out the booking form by clicking on their official website. Separate charges have been imposed for adults, middle-aged children, and infants.
The night tour Itinerary is something you can never miss out on. The breathtaking activities include Kayaking, Scuba diving, and surfing. You can also shop for your family and friends at the Port-Blair market.
Some popular items sold there include coral bracelets, wooden antiquities, Pearl Jewellery, Spices, etc. You can also buy Cane handicrafts and decorative items made of coconut shells.
Exclusive body spa sessions are also conducted at Port Blair, the capital city of Andaman & Nicobar Islands. Avail yourself of those to relax and soothe your tired body. Get some souvenirs for your beloved ones from there as well.
What Can You Expect?
You can book 2 to 5-star hotels as per your budget. None of our services will dissatisfy you as we take special care of our lovely clients. You can check out in-depth Andaman tourism through our web pages to know more about our services and aids.
The durations to stay lie between 3 nights and 4 days to 9 nights and 10 days. There are different categories of all the packages mentioned above, such as the Blissful romantic tour plan, Budget package for couples, a Family trip to Baratang Island, and so on.
The water sports are not only limited to scuba diving but also are of different varieties, such as
Coral Safari Semi Submarine
Conclusion
Go Andaman Holidays has relevant experience in client servicing and grievance handling. We have packages relevant to people from different cities, including the Andaman tour packages from Mumbai. You can check out other travel agencies and compare our prices with them. But, you'll not get such a warm welcome and a friendly gesture as our representatives provide. Click on our website and book your first consultation now!
Read Also: