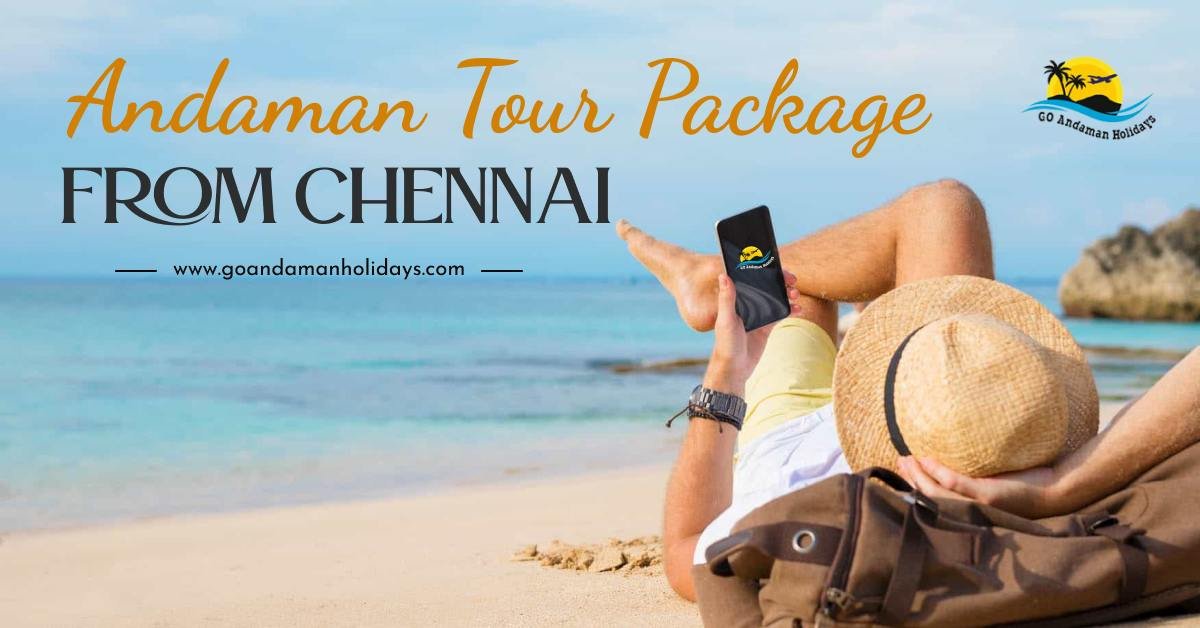 Go Andaman Holidays

17-03-2023

0 Comments
Andaman Tour Package from Chennai
Are you looking for a naturalistic environment to re-energize your soul? With immaculate beaches, amazing underwater vistas, and stunning locations, Andaman is the perfect place to go on a vacation if you want to break free from your boring routine and create lifelong memories.
Treat yourself to a long vacation filled with unique experiences and adventures in the gorgeous Andaman Islands, with Go Andaman Holidays. Apart from your traveling expenses, you are not required to think about anything for your Andaman tour package from Chennai. Their well-planned, budget-friendly, and extremely customizable itineraries are suitable for any of your vacation needs.
Must Visit Andaman Tourist Destinations
Andaman tour package from Chennai by Go Andaman Holidays includes all the popular tourist destinations of Andaman.
1. Port Blair
The capital of Andaman and Nicobar Island, Port Blair, enables you to interact with India's cultural heritage apart from sightseeing and trekking. Attend gatherings that serve a variety of delectable foods and a mix of cocktails. You can shop items like wooden antiquities, shell decor accents, and pearl jewelry at Aberdeen Bazaar.
2. Cellular Jail
The Cellular Jail, also known as "Kala Pani," is one of the most well-known tourist destinations in the Andaman Islands. This prison was once used by the British for expatriating as well as executing political prisoners. During World War II, the Japanese destroyed several parts of the cellular jail. It is now a national memorial monument and a shrine to all the national heroes.
3. Havelock Island
Havelock receives the most visitors, being one of the best tourist places in Andaman. Havelock Island, which is 39 kilometers to the northeast of Port Blair and covers an area of 113 square kilometers, offers the ideal Andaman beach vacation. This welcoming and magnificent island's white sand beaches are surrounded by rain-fed forests, making them one of India's most picturesque travel destinations.
It offers captivating adventure activities like scuba diving, snorkeling, and trekking in addition to its exceptional ambiance and hypnotic serenity. Havelock Island is the ideal holiday spot for those seeking a tour of nature's lap and is equipped with a number of leisurely amenities.
4. Radhanagar Beach
Radhanagar Beach which is the best beach in India is backed by turquoise water and lush green forest, it is a pristine-looking sand stretch nestled on Havelock Island. The beach, which is lined with palm trees, provides visitors with a peaceful ambiance to unwind and relax in the midst of nature. Enjoy watching the aqua waves touch your feet as you go barefoot in the sea. The surreal scenery makes you feel like floating in the lap of nature. For a complete makeover of mind, you can't afford to miss this place.
5. Baratang Island
Baratang Island, which is around 100 km from Port Blair, is an undiscovered gem full of natural wonders and pure beauty. This must-see location slouches with lush mangrove forests and luscious green meadows. Incredible but unnoticed location, the spectacular limestone caves, and intriguing mud volcanoes are only a couple of the unusual and fascinating sights found on Baratang Island.
6. Neil Island
Neil Island, which is northeast of Port Blair, is known as the "Vegetable Bowl of Andaman" because of the farming methods used there. Neil Island, an extensive and pristine Andaman island, is bestowed with stunning scenery, making it the ideal place for a vacation. This island is nothing less than heaven for travelers looking to relax after a busy day. It is a visual pleasure due to the turquoise water and lush vegetation. Do not miss out on experiencing Neil Island's magnificent reefs and corals.
7. Ross and Smith Islands
A 50 m long, thin sand bar links the twin islands of Ross and Smith. This Andaman tourist destination's virgin beaches, tropical rainforests, and azure blue waters are immensely fascinating. It is rarely crowded and you can savor the entire view with your loved ones in this must-see Andaman tourist destination.
You should also visit Ross Island if you want to explore its historical significance. The remnants of the British-era structures can still be found on Ross Island, which served as the colony's administrative center. To preserve the spirit of the past, the tourism agency has today's state-of-the-art light and sound performance on display for visitors to the Island.
8. Anthropological Museum
Museums are the most popular tourist attractions, no matter where you are in India, as they offer a wealth of local knowledge. Discover some of Andaman's renowned museums, such as the Anthropological Museum, to immerse yourself in the region's history. A few other museums are The Science Centre, Zsi Museum, Forest Museum, and Kala Pani Museum. You will learn about marine life, historical characters, wildlife, as well as technology at these museums.
9. Samudrika Marine Museum
Samudrika Marine Museum, one of the most well-known tourist places in Andaman for all marine enthusiasts, is located near Andaman Teal House. To spread awareness about marine and ocean life, this museum was constructed. The Indian Navy supervises it and uses it to educate people about aquatic life. Witness the few species of colorful fishes as well as seashells and corals and other marine life when you visit this museum.
10. Chidiya Tapu
Chidiya Tapu, also known as Bird Island, is well-known for its breathtaking sunsets. It features an incredible sight of the Andaman shoreline and is home to numerous bird species. Along its coastlines, you can participate in various enjoyable water sports like deep-sea walking, boating, scuba diving, and snorkeling. Organize a picnic, eat delicious food while basking in the magnificent scenery, and go shell-collecting while having a stroll on the beach.
Conclusion
The Andaman and Nicobar Islands have earned the title of an environment-friendly tourist destination. The Andaman Islands' evergreen tropical rain forests, serpentine mangrove-lined streams, stunning silver sand beaches, and abundant marine life, including rare plant species, animals, corals, and more, offer visitors an unforgettable experience and serve as a tourist paradise. The water activities, beach resorts, and outdoor adventures like hiking, nature trails, island camping, scuba diving, etc. offer a ton of opportunities to appreciate nature. With Go Andaman Holidays, you are sure to have an experience of a lifetime in the Andaman tour package from Chennai.
You May Like Also: