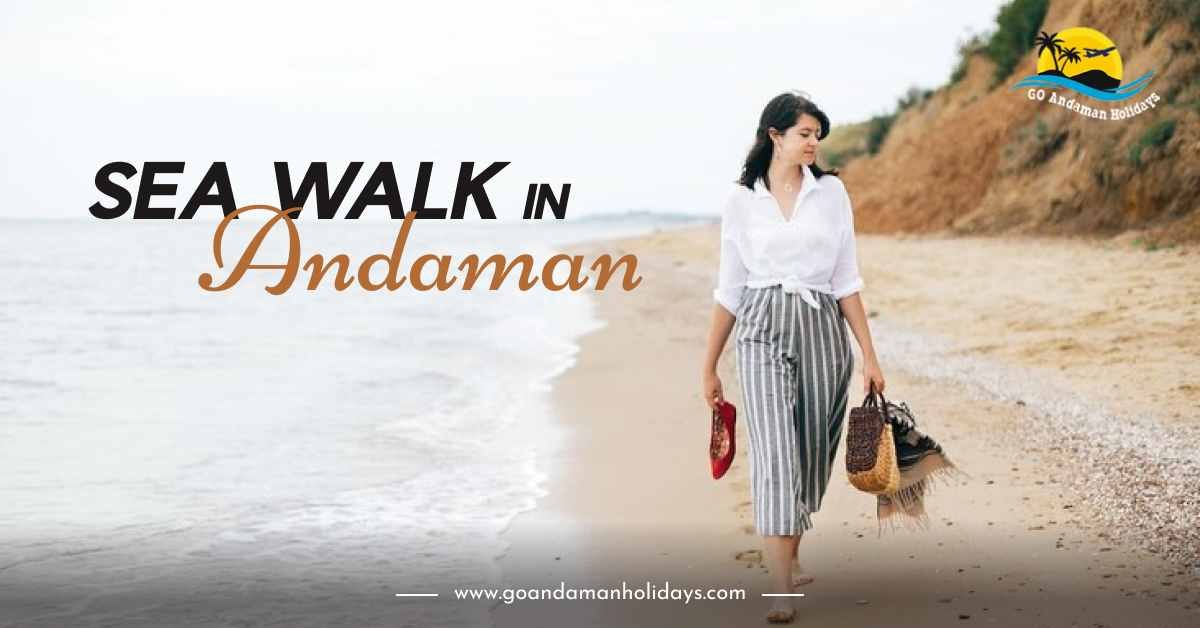 Go Andaman Holidays

12-05-2023

0 Comments
A Holistic Guide To Sea Walk in Andaman
Hello travelers! We're back with another amazing blog for you all. Today, we'll guide you through a stunning sea walk in Andaman. As an Andaman tour agency, we make sure our content is insightful and reaches a wider audience. Thus, we would request you to share this article as much as you can so that our mission is successful.
If you're looking for a unique and breathtaking experience, trying a sea walk in Andaman must be on your bucket list. The Islands are known for their shiny waters and beautiful beaches, making them a perfect destination for sea walks. Here, we will take a closer look at what a sea walk is, what to expect, and some of the best places to try a sea walk in Andaman.
What is a Sea Walk?
A sea walk is a pleasant underwater experience where you can walk on the ocean floor while wearing a specialized helmet. The helmet provides air to breathe and allows you to explore marine life without the need for scuba diving or prior swimming experience.
The sea walk in Andaman will let you witness the mesmerizing underwater world, such as coral reefs, hammerhead sharks, dolphins, goldfish, manta rays, sea turtles, and so on. The view would be super exciting and you'll make the best out of your vacation to the Andamans.
What to Expect During a Sea Walk in Andaman?
Before trying out a sea walk in Andaman, you'll first have to undergo a brief training session with your guide. They will teach you about the equipment and safety measures. Then, they'll help you board a boat to take you to the location where the sea walk in Andaman will take place.
Once you reach it, you'll walk down the descended ladder into the water after wearing your specialized helmet. The guide will accompany you as you walk into the ocean floor to assist you in exploring the area and ensuring your safety.
If you're lucky, you may get the chance to see the rarest species of plants and animals underwater!
Best Places to Go for a Sea Walk in Andaman
1. Havelock Island
Havelock Island is one of the most famous destinations for a sea walk in Andaman. The archipelago has numerous dive centers that offer amazing sea walk packages, and an experience that would be worth remembering for a lifetime. The water is crystal-clear and there's plenty of marine life. All these make it a perfect destination for a sea walk in Andaman.
2. North Bay Island
North Bay Island is another popular spot for a sea walk in Andaman. The Islet is famous for its extraordinary marine life and breathtaking atmosphere. Additionally, it is easily accessible to Port Blair, making it super convenient for tourists to explore both places.
3. Elephant Beach
Elephant Beach is an isolated beach located on the Andaman Island. It's indeed the best place for trying a sea walk in Andaman. The lush green forests surround the Islet and it has clear blue water, making it appear very serene to explore.
The archipelago is also a popular spot for snorkeling. Hence, you can try both activities to have a wonderful experience and a blast of fun.
4. Neil Island
Neil Island is a hidden gem located in the Andaman & Nicobar Islands. It is known for its stunning beaches and tranquil atmosphere. Also famous for its amazing veg and non-veg cuisine, Neil Island is called the "Vegetable Bowl of India".
You can avail yourself of several diving packages at mesmerizing discounts, which is nothing short of magical. Tie-up with an Andaman tour agency to get further offs.
Conclusion
In this blog, we guided you about the wonderful sea walk in Andaman, which is not only a water sport but a source of fun for many young enthusiasts. Tourists from all over the world gather at these islands to have some relaxation and an escape from their routine lives.
In case you find yourself longing for the same, don't hesitate from contacting an Andaman tour agency! They can offer multilingual guides to you who speak many languages. With the help of them, you'll find it super easy and exciting to try a sea walk in Andaman. Good luck!